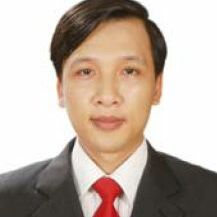 Assoc. Prof. Dr. Ing. Vu Van Manh
VNU - Hanoi University of Science
Faculty of Environmental Sciences
Webpage: click here
Selected publications (max. three)
Nguyen Xuan Hai, Vu Van Manh, Nguyen Thi Bich Nguyet, Pham Anh Hung, and Pham Thanh Van: "Study on suitability for Nang Xuan rice variety by combination of Hanoi soil database and climate change scenario" ARPN J. Agricult. Bio. Sci., 2014, 9, 256-263, ISSN 1990-6145, August 2014.
Vu Van Manh, Nguyen Quang Huy "The efficiency of wastes separation at source in high-rise residential buildings of Hanoi" Environmental Protection Journal, Ministry of Natural Resources & Environment, ISSN: 1859-042X, Vol. 86, Hanoi 7/2006.
Nguyen Thu Hang, Trinh Hoai Thu, Dinh Duy Chinh, Vu Van Manh "Study on the freshwater boundary of the Pleistocene aquifer in the coastal zone of Nam Dinh province" 29th International Conference on Informatics for Environmental Protection and the 3rd International Conference on ICT for Sustainability, p.147-152, ISBN 978-87-7903-712-0, 7-9 September 2015, Copenhagen, Denmark 2015.
Main current Research interests
Applied Environmental Sciences
Waste management
Emission Inventories
Environmental Monitoring and Modeling
Applied Geoinfomatics in Environmental Management