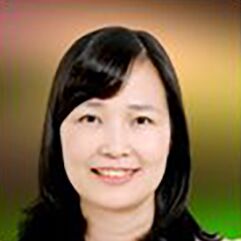 Assoc. Prof. Dr. Nguyen Thi Cam Ha
VNU - Hanoi University of Science
Department of Physical Chemistry
Faculty of Chemistry
Webpage: click here
Selected publications (max. three)
Nguyen Thi Cam Ha, Bui Dinh Anh, Huynh Thi Lan Phuong, Nguyen Van Thuc. Electrochemical catalysts based on Pt,Pd,Ni for hydrogen production by alkaline water electrolysis. The 5th Asian materials data symposium, Hanoi, 2016, 121-129
Nguyen Thi Cam Ha, Nguyen Sau Quyen, Truong Ngoc Thanh, Nguyen Xuan Hoan, Nguyen Van Thuc. Study on synthesis and electrochemical properties of composite electrode containing platinum in alkaline medium. Vietnam J. Chem., 52, 11-15.
Pham Hong Phong, Nguyen Hoang Anh, Le Quoc Hung, Nguyen Thi Cam Ha,Vu Thi Thu Ha. Highly sensitive determination of Hg(II) using self-assembled monolayer of 4-pyridineethanthiol on gold nanoparticles modified-glassy carbon electrode pretreated by exclusively cathodic polarization. Asian J. Chem., 2013, 25, 6562-6568.
Main current Research interests
Study on synthesis and properties of the electrochemical materials: electrode materials, electrochemical catalysis, electrochemical sensor, fuel cell and electrochemistry for the environment.
Study of corrosion inhibition and protection of metal