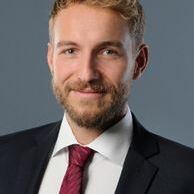 Dr. Robert Francke
Rostock University, Institute of Chemistry,
Industrial Chemistry Division
Webpage: click here
Selected publications (max. three)
A. Rosas-Hernández, H. Junge, M. Beller, M. Roemelt, R. Francke Cyclopentadienone iron complexes as efficient and selective catalysts for the electroreduction of CO2 to CO Catal. Sci. Technol. 2017, advance article. DOI: 10.1039/C6CY02352E.
T. Broese, R. Francke, Electrosynthesis Using a Recyclable Mediator-Electrolyte System Based on Ionically Tagged Phenyl Iodide and 1,1,1,3,3,3-Hexafluoroisopropanol Org. Lett. 2016, 18, 5896.
R. Francke, R. D. Little Optimizing Electron Transfer Mediators Based on Arylimidazoles by Ring Fusion: Synthesis, Electrochemistry and Computational Analysis of 2-Aryl-1-methyl[9,10-d]phenanthroimidazoles J. Am. Chem. Soc., 2014, 136, 427.
Main current Research interests
Development of new redox catalysts for indirect electrosynthesis
New strategies for separation and recycling of supporting electrolytes and mediators
Paired electrosynthesis
Electroreduction of carbon dioxide for generation of fuels and value-added products
Chemistry and electrochemistry of hypervalent iodine compounds
Phenanthroimidazoles and their radical cations