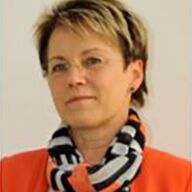 Prof. Angelika Brückner
Leibniz-Institute for Catalysis
Department "Catalytic In situ Studies"
Webpage: click here
Selected publications (max. three)
Bauer, M., Bentrup, U., Priebe, J. B., Brückner, A., Chapter 24: Operando Spectroscopy, in: Contemporary Catalysis: Science, Technology, and Applications, edited by Paul C. J. Kamer, Dieter Vogt and Joris W. Thybaut, © The Royal Society of Chemistry, 2017, ISBN 978-1-84973-990-0.
Brückner, A., Kondratenko, E. V., Radnik, J., Schneider, M.: In Situ Non-Vibrational Characterization Techniques to Analyze Oxidation Catalysts and Mechanisms, in: Handbook of advanced Methods and Processes in Oxidation Catalysis, 1st Edition, Imperial College Press, 2014, 496-542.
Priebe, J. B., Karnahl, M., Junge, H., Beller, M., Hollmann, D., Brückner, A.: Water Reduction with Visible Light: Synergy between Optical Transitions and Electron Transfer in Au-TiO2 Catalysts Visualized by In situ EPR Spectroscopy, Chem. Int. Ed. 2013, 52, 11420-11424.
Main current Research interests
structure-function relationships of metal and metal oxide catalysts in transformations of hydrocarbons (selective oxidation, dehydrogenation, oligomerization)
development of spectroscopic operando methods for monitoring heterogeneous and homogeneous catalytic processes (also under elevated pressure) with special focus on simultaneous coupling of several operando methods in the same experiment
adaption of (coupled) in situ-methods for monitoring catalyst synthesis as well as photo- and electrocatalytic reactions
catalytically active transition metal centres in zeolites